Once upon a time, there was a Scottish aunt named Esther who brought with her to Canada a recipe for delicious cookies. Passionate about baking, she wanted to share her love for these cookies with the world and began producing them in her own kitchen with determination and love.
As time passed, Esther's cookies became a favorite of her family and friends, thanks to their addictive, crispy texture and the use of natural ingredients crafted with care and love.
In 1998, Esther rented a commercial bakery space to produce her cookies on a larger scale, still using the manual fork technique to flatten the dough. In 1999, a woman named Heidi joined the business, and together they rented a new production space in Alfred, enabling greater efficiency and wider reach for their cookies.
Over the years, the business thrived and launched new packaging in 2007. However, in 2013, a new owner, Willy, took over the reins of the company. Willy had more than 40 years of experience in working in bakery and developing new products. He had big plans for the future of Esther's beloved cookie business and was determined to see it succeed.
Come July 2022, Isaac, known as Staqim on TikTok, stepped in with grand visions for Aunt Lizzie's cookies. He honored the longstanding quality and tradition of the cookies, while breathing new life into the brand through social media, thus expanding their popularity in Quebec.
In the midst of these transitions, Isaac made no alterations to the original recipes, instead focusing on the packaging to comply with Canadian laws. The shift in packaging aligns with the Single-use Plastics Prohibition Regulations, a comprehensive plan by the Canadian Government to tackle pollution, achieve zero plastic waste by 2030, and reduce greenhouse gas emissions. Aunt Lizzie's is proud to contribute to this effort, mitigating the pollution of our rivers, lakes, and oceans, protecting wildlife, and curbing the production of microplastics in the water we consume.
Throughout changes in ownership and the passage of time, the legacy persists. Aunt Lizzie's cookies, borne out of determination, passion, and love in Esther's kitchen, continue to delight palates. Thanks to Isaac's stewardship and Willy's guidance, Esther's beloved cookie tradition endures, promising many more years of delightful indulgence.
Aunt Lizzie's Quality Promise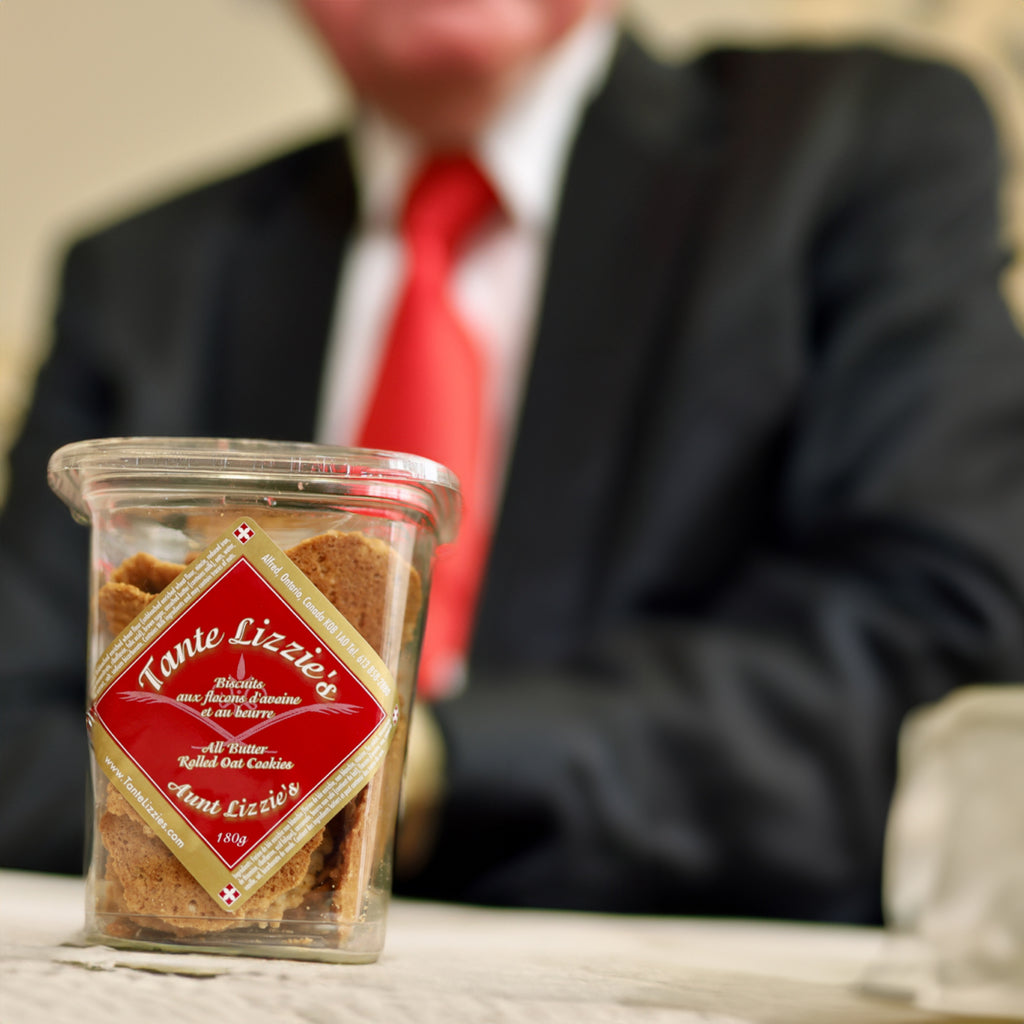 Crisp Luxury Meets Business Chic: Our Butter Cookies
As distinguished as a businessman in a red tie, our butter cookies deliver timeless appeal and quality in every bite.
Indulge in elegance.

Explore the exceptional taste of Aunt Lizzie's Maple and Almond cookies, crafted with the utmost care and passion.
Our Maple cookies are a tribute to the pure sweetness of nature, each bite infused with real maple sugar for an authentically sweet and earthy flavor.
On the other hand, our Almond cookies add a delightful crunch and a nutty aroma that transcends the ordinary.
Savor the experience that is Aunt Lizzie's Maple and Almond cookies.